Poker Tournaments vs Cash Games: Which One Should You Play? Playing poker for money is incredible fun but only when you understand the stakes and the difference between various poker money games. As poker takes on the online rooms in India, the awareness about the game and excitement has been on a steady high sure but due to the lack of knowledge about the dominant elements of different poker money games, we tend to make mistakes that make us quit this thrilling game once and for all.
The aim of this article is to figure out these elements that separate the two most important formats- cash games and poker tournaments. Once you know the difference between the two, you will know when to go for either variant.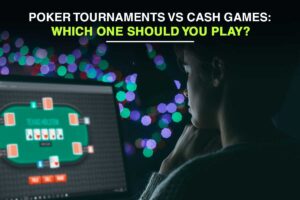 Key Markers for Poker Money Games
Cash Games vs Poker Tournaments- Pros & Cons
1 – Poker money games especially cash games usually witness a bigger crowd of recreational players than professionals. Therefore, even new players can try their skills in poker cash games and maybe even fare better in the long run. Cash games run at a relaxed pace and players do not need to play every hand as the blinds remain static in cash games, unlike poker tournaments.
Poker tournaments carry an urgent sense of competition as everyone is playing to claim the biggest share of the prize pool. The blinds also increase at regular intervals in online poker tournaments in real money poker apps, unlike cash games. So, players also get the urge to defend their blinds more aggressively in tournaments because if they don't, sooner than later, they blind out!
2 – A similar feature that you find in both cash games and poker tournaments is the buy-in fees. However, there is a minute difference that changes the nature of wins and losses remarkably in the game. In cash poker games, the buy-ins are typically assigned as specific stakes such as 1/2, 5/10, 10/20, 25/50, and so on. So, if you pick poker cash games of stakes 5/10, the blinds will remain 5/10 throughout the game. However, you will also need to pay a minimum buy-in fee to sit at the table.
On the contrary, in poker money tournaments, players will have to pay a fixed buy-in fee plus the rake to enter the same. These buy-in fees collected from all players usually form the total prize pool in many regular poker tournaments. In other cases, you can also play satellite (qualifying tournaments) for lesser buy-ins to qualify for bigger tournaments with monster guarantees that typically require substantial buy-ins. As mentioned earlier, blind levels increase every few minutes in tournaments that further spikes the level of competition and typically calls to attention a more experienced crowd.
3 – A visible pro of playing poker cash games is that you can play a few games and leave the table anytime you like. In tournaments, you got to stick to the very end unless you run out of chips and get eliminated automatically. Some poker money tournaments do have a feature of re-buys and re-entries that allow you to re-enter the tournament by buying a fixed number of chips for additional money.
All in all, you need to make sure you have the time to grind for a longer session when playing poker tournaments in real money poker apps as opposed to cash games that are oriented towards a quick and casual session. Having said that, the rewards of playing poker money tournaments are bigger than in cash games.
4 – Variance is another factor all players must consider when choosing to play either variant because it has a significant impact on the results versus your expectations. By now, you may have figured that the static nature of poker cash games is such that variance is pretty rare on the tables.
Variance is actually the impact on your bankroll caused due to the measure of uncertainty in cash games of any kind. This is more relative to poker tournaments because you might cover up your buy-ins by making it in the money but securing the top positions is the only way you could beat the variance and thus, protect and amplify your bankroll. So, you must have a solid bankroll to play tournaments and make profits, unlike cash games that require just a few bucks!
Assuming you take these factors into play when choosing your next poker money game, we have procured a mix of special online poker tournaments from one of India's popular real money poker apps, PokerBaazi. While you could play cash games anywhere, these tournaments offer the perfect balance of thrill, competition, and rewards for especially those new to poker.
PokerBaazi's New Value Bomb Series 50LAC GTD
For those looking for a great deal, players must playtest their skills on the Value Bomb 50LAC GTD soon to be hosted by real money poker app, PokerBaazi. This online poker tournament offers 4 flights (phased tournaments) offering players to collect bigger returns up to 2000x value against your buy-ins! Poker Tournaments vs Cash Games: Which One Should You Play?
Check out the tourney highlights.
Tourney goes live from 18th-22nd November & features multiple buy-ins
4 starting flights to book your seats to Day 2 allowing players multiple options to get in The Money!
Another direct buy-in option of just 2,750 rupees
Enter through even cheaper buy-ins through satellites
Play 2 seat satellites daily at 9 PM for just 275 rupees daily
Tourneys like these rarely come by but when they do, they offer stellar rewards and returns by offering multiple opportunities to claim bigger returns for buy-ins that do not hurt your pocket. So, now that you know the inherent elements of the game and still interested to taste a bite of success for minimum investment, get hold of such opportunities and get in the poker money business for real by making choices that guarantee maximum returns.