A Quick Guide on How to Play 13 Card Rummy Game Online
If you have ever played solitaire or hearts on Windows PC, the 13 card rummy game should be the next best thing you will fall in love with. The easy-peasy nature of this game is the reason why every Indian eventually digs online rummy games today. So, let's not beat around the bush and quickly get you acquainted with the rules of 13 card rummy games so that you can play a game or two the minute you are done reading this!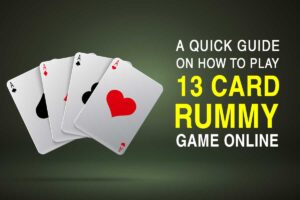 13 Card Rummy Game Rules
13 card rummy game is played between 2-8 players at a time with a 52 deck of playing cards. In this game, 13 cards are dealt with each player which they must use to make valid combinations in the shortest possible time to win the game. However, there's some catch that tweaks the thrill quotient of the 13 card game online. We are laying it all down pointwise.
All players must strive to make combinations by forming valid sets and sequences with all 13 cards
Your 13 card rummy game combinations must also include a pure sequence for a valid declaration. Without a pure sequence, you have a dead hand.
A sequence is formed by arranging at least three cards of consecutive numbers but of different suits. Eg: 7h,8c,9d
A pure sequence is formed by arranging at least three same suited cards of consecutive numbers. E,g: 7h,8h,9h
You form a set by arranging three or more cards of the same rank but a different suit. E.g: Kh, Kc, Ks
No card should be left idle, any redundant cards in your hand and you will lose the game.
To play the game, every player must pick a card from the closed deck, use it form combinations, and discard any unnecessary card on the open pile.
The game continues clockwise and whosoever manages to form his/her combinations first among all players must meld the cards and click on the declare button.
Game Objective
The objective or the end goal in 13 card online rummy games is to score zero points and secure the top spot by making a valid declaration using all 13 cards first among all opponents. If you fail to do so, you shall receive penalty points for the unused cards.
Scoring System in 13 Card Rummy Game
The scoring system is pretty basic in 13 card online rummy games. All face printed cards carry 10 points each (A, K, Q, J). The rest of the cards carry points similar to their face value, i.e. card marked no. 5 carry 5 points, the card marked no. 10 carry 10 points, and so on.
The idea is that even if you don't end up winning the game, you must keep your score to the minimum so that you don't add those penalty points to your scorecard. This is important because if you play a 13 card rummy game online with real money, your penalty points get converted into real money.
Playing 13 card rummy games online for real money is double the fun once you have learned the tricks of the trade. Let's take you to a portal that hosts both free and cash games of 13 card online rummy games along-with some Diwali goods up for grabs this festive month.
Play 13 Card Rummy Games Online on RummyBaazi
RummyBaazi, India's Most Rewarding Rummy site has released an incredible set of cash games promotions and fresh tournaments for rummy lovers. All these promotions are applicable on 13 card rummy games, so the spectrum of choices is magnificent. However, we shall highlight the promotions that shall best fit your interests and skillset.
20K Daily Depositor Freeroll
Freerolls are a great option for beginners where they can win handsome money for fraction of the buy-ins. You can play this 13 cards online rummy tournament all 7 days of the week at 10 PM sharp whenever you feel the want for some action. Here's how you may join this tourney.
Download the RummyBaazi app and create an account
Make your deposit of just INR 200 using code, "Daily20K" and get a free ticket to the tourney
All players will also receive a free ticket to the next available tourney on their first deposit
Players also stand to win a welcome bonus of up to INR 3000 on the first deposit.
Players on RummyBaazi also stand to win a real cash bonus for free by playing 13 card rummy games for cash. You can use this free bonus money to play more cash games on the app.
So, go hit the rummy tables this Diwali and bring home some goodies in exchange for a few minutes of online activity in this mother of all card games! A Quick Guide on How to Play 13 Card Rummy Game Online.